A Proper Startup for Network Transformation
___________________________________
Xu Huangcheng
NGN planning
department
I.
Network Transformation — Challenges and Opportunities for Network
Carriers
Traditional carriers are now facing three main challenges:
A. Saturation in fixed-line and wireless voice markets.
B.
Continued erosion of TDM service revenue by IP and VoIP telephony.
C. Lack
of an effective strategy and sufficient profit margins for broadband
services.
The need for transformation
The prevalent trend in the telecom market exhibits wireless technologies
replacing fixed-line telephony, voice services giving way to non-voice
services, and ICT convergence superseding traditional business services. The
fixed network market has undergone substantive, structural changes in terms
of increasingly demanding market requirements, the impact of technological
progress and fresh challenges due to increased competition.
Telecommunications is now focused on the integration of multimedia
information and the convergence of IT and CT in corporate applications.
Furthermore, there now exists a greater emphasis on mobility and
personalized and customized services. Technological advancements have given
rise to lost cost new technology, more rapid deployment methods and an
unprecedented ease of market entry. IP and mobile technologies are the
fastest developing applications and, compounded by polarized competition,
cheap mobile voice and VoIP telephony and VoIP services are shattering the
tried and tested "license + voice" service delivery pattern. Structural
transformation is therefore inevitable for network carriers, and this is in
fact necessary to guarantee survival in the marketplace.
The nature of
transformation and NGN
This of course raises the question of defining clear goals relative to the
nature of this transformation. Some common viewpoints have been found after
analyzing the cases and strategic plans of various globally leading
carriers, including BT's 21st Century plan, Telstra's Future Network
Evolution and NTT's Resonant Communication Network Architecture. It is the
belief of these companies that traditional carriers must shift perspective
to become more holistic and integrated information service providers in
order to reflect the fact that networks are moving inexorably towards
convergence, broadband and network intelligence.
'Convergence' can be defined as multiple networks of services being combined
into a single network providing multiple services; 'broadband' refers to the
evolution of narrowband networks to broadband networks; 'intelligence' means
the transition of intelligent networks to network intelligence. Traditional
to NGN network evolution occurs in two stages. Firstly, NGN is used re-construct
PSTN. Secondly, corporate and home subscribers are provided with converged
Information Communication Technology (ICT) services.
A Proper Startup for Network Transformation
___________________________________
Xu Huangcheng
NGN planning
department
II.
Network Transformation: Starting from Softswitch + SHLR + MSAN
Based on an understanding of future network transformation, Huawei proposes
a solution utilizing "Softswitch + SHLR + MSAN" as shown in figure
1 :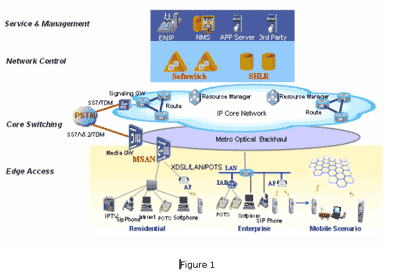 There are four layers to this solution:
1. A
service and management layer.
2. The
network control layer.
3. The
core-switching layer.
4. The
edge access layer.
The service and management layer is an open and integrated service platform
that provides service logic processing in terms of creation, logic
definition, programming interfacing and management. The network control
layer consists of softswitch and SHLR (Smart Home Location Register). The
softswitch comprises the network's service control center, which provides
control functionality, control and command of media gateways and access
devices, signaling protocols' processing and CDR generation. The SHLR in
these terms encapsulates a user profile center that acts as the central
database detailing every network subscriber, their attributes and
subscription service properties. Additionally, the SHLR can store subscriber
profiles in networks other than NGN, such as PSTN or PLMN, as well as
storing logical and physical number maps. The SHLR, softswitch and service
platform are designed to enhance service provision across the entire network
(NGN, PSTN, and PLMN).
The core-switching layer adopts packet switching technology, and provides a
highly reliable, guaranteed large-bandwidth integrated switching platform.
The edge access layer contains MSAN (Multi-Service Access Network), an
integrated access gateway solution that provides various kinds of access
interfaces including POTS, ISDN and xDSL.
Combining softswitch and SHLR in terms of the solution as a whole brings
intelligence to the whole network. MSAN is positioned as the access layer,
thus enabling the provision of new broadband services by broadening last
mile bandwidth. The features of convergence, broadband, and intelligence are
reflected in all four layers of the network.
A Proper Startup for Network Transformation
___________________________________
Xu Huangcheng
NGN planning
department
– Convergence
oriented Network
At the
access layer, the existing multiple access equipment – traditional switch,
DSLAM and AN – are replaced by one MSAN, which embodies a unified access
platform and significantly decreases the required number of access nodes.
Diversified access service needs are met including ADSL 2+, VDSL, LAN, FTTH,
WiMAX , PBX, POTS and ISDN.. At the core-switching layer, legacy PSTN, data
and Internet networks are replaced by a shared IP network.
The service layer enables centralized user profile storage and network call
control, which realizes the goals of service convergence and rapid service
deployment. Voice, mobility, multimedia and Internet converged services are
readily expedited.
– Broadband oriented Network
MSAN introduces various broadband access methods at the access layer and
increases last mile bandwidth to meet user broadband service requirements.
At the core-switching layer, the network is constructed utilizing sufficient,
guaranteed core bandwidth to ensure high quality and the ability to meet
growing service needs.
– Intelligence-oriented Network
At the service layer, the existing separated intelligent networks – fixed,
mobile and APP server – are replaced by one unified, intelligent service
platform. The centralized subscriber data center and service-switching
center brings intelligence to the whole network and supports speedy and
unified service deployment.
Initiating network transformation with Softswitch + SHLR + MSAN offers users
a plethora of benefits:
1. Simplified network architecture
Serving as independent call control nodes in the traditional local network,
the legacy switch can be defined as an all-inclusive, small capacity piece
of equipment. In order to actualize large-scale deployment, numerous offices
are usually established in a small area to build a layered network such as
C1, C2, C3 and so on. This can give rise to over-complicated network
dynamics, rendering PSTN hard to maintain, update and expand.
Large capacity softswitch + MSAN denote the most practical and cost
efficient solution to solve this problem. The softswitch contains a powerful
processing capability to support local subscribers, and the different Media
Gateways bundled with this solution offer different capacities and
circumstantial adaptability. MSAN, which can support thousands of
subscribers, possesses an internal switching function that is suitable for
relatively densely populated areas or significant subscribers. If the bearer
network between softswitch and the MSAN fails, MSAN subscribers can still
communicate. Furthermore, the 'MSAN Outdoor Cabinet' boasts an all-in-one
design incorporating power supply, MDF, battery and air-conditioning system
for outdoor application.
With this solution, one Softswitch system is capable of covering a very
large area. Not only is the structure of the network simplified, call
failures are greatly reduced. The system as a whole offers unequalled
robustness and a dramatic reduction in terms of total investment expenditure
in equipment, external lines and maintenance. Moreover, by adopting optical
fiber transmission, this solution can satisfy the requirements of both today
and the future.

As Figure 2 illustrates, the Softswitch + MSAN solution reduces the number
of host switches from 10 to 1. All subscribers receive centralized
softswitch control that is accessed through MSAN, and switch coverage is
extended from 3km to tens of kilometers. Given that the MSAN receives
centralized control and monitoring from the Softswitch, this aspect of
maintenance expenditure is considerably lessened. Since the lower-level,
small capacity legacy switches are replaced by an MSAN, the local network is
unified. Therefore, call connection times are shortened, call completion
rates are increased, network safety and integrity is enhanced, and the cost
of upgrading and overall maintenance reduced.
A Proper Startup for Network Transformation
___________________________________
Xu Huangcheng
NGN planning
department
2. Bringing
intelligence to the whole network
The SHLR operates in a similar manner to the HLR in a mobile network and the
HSS in IMS. It functions as the central database for all subscribers in the
network and stores the mapping between logical numbers and physical numbers,
as well as recording subscriber attributes and subscription service
properties. This methodology delivers operators the following benefits:
– Quick and low-cost network-wide coverage of IN services. All calls in the
network are controlled and billed via the softswitch, which acts as the
service control center. All subscriber data is stored and managed by the
SHLR, the subscriber data center. The development and deployment of services
are no longer limited by physical lines, and numbers located in the LEs are
scattered over different geographical locations. The solution can provide IN
services such as Colorful RBT, ONLY, PPS, WAC, new intelligent phones, MVN
(Multiple Virtual Number) to all subscribers without upgrading the LEs. Thus
network profitability is boosted.
– OPEX is
reduced by centralized management, maintenance and subscriber data
authorization
3. Investment protection
Huawei's
"Softswitch + SHLR + MSAN" solution can consolidate all PSTN service
capabilities and facilitate development without losing current subscribers.
It therefore supports service transformation in a manner that is
forward-looking, proactive and reactive to the future direction of the
industry. The access network is a key component of the local network,
requiring the greatest portion of CAPEX, and it forms the access and
transfer platform for all service networks including PSTN, ISDN, DDN, FR,
ATM, and IP. At the moment, voice service is still the principal network
service, but with the rapid development of packet services, packet traffic
will ultimately exceed TDM traffic levels. The access network provides
access to all service and local telephone networks and inherently possesses
the capacity for evolution to NGN. The use of MSAN in the NGN's access
network reduces CAPEX and OPEX and allows future service integration and
deployment to take place.
MSAN – key benefits
– MSAN is an integrated access device that can access services such as POTS,
DDN, FR, ATM, and IP. Therefore, carriers do not have to build and maintain
multiple service networks.
– Huawei
fully considers the trend of future service development in MSAN system
design. It is designed with a triple-bus structure – ATM, TDM, and IP. All
access modes are supported, as is the deployment of the ANY PLAY service.
Carriers are not required to upgrade MSAN to support new future services.
– The
MSAN provides high-density, narrowband and broadband hybrid boards,
increasing port density, reducing cabinet size; simplifying cabling and
minimizing cabling space. OAM is simplified, reducing CAPEX and OPEX.
A Proper Startup for Network Transformation
___________________________________
Xu Huangcheng
NGN planning
department
4. Enhancing
service capabilities
With MSAN's broadband access capability, the network control center
softswitch and the SHLR data center provide richer services spanning
multimedia, third-party and network management. Service provision takes
place together with the ENIP, a comprehensive service platform. The
development cost of Softswitch's new services is only 20% that of
traditional telecom networks, and the development period is only 10% that of
PSTN.
Services and capabilities
1. Traditional PSTN/ISDN basic services, supplementary services and Centrex
services. This covers traditional phones as well as SIP and H.323 multimedia
phones.
2. Multimedia Application Services, including point-to-point video services,
video conferencing, IP TV, interaction between multimedia phones and 3G
handsets, and various types of multimedia integrated services
3. Value added services include new intelligent phones, iCard integrated
account cards, IN public phones, colorful dial, background and ring back
tones (CRBT), instant billing, remote handset address, caller authentication,
ONLY, VPN, FFPH (family free phone), FPH, voice address books, audio cards,
voice SMS, voice mailbox, advertisements, designated phone payments and an
IP card service.
4. Third-party open API. The softswitch and the ENIP platform provide an
open API so a third party may develop customized and personalized services.
The softswitch can access the Application Server through standard SIP
protocol, and traditional SCP through INAP in order to provide traditional
and new value added services.
The ENIP benefits from flexible and versatile network capability opening
models, providing openings to CORBA, Web Services (SOAP) and RMI. ENIP
supported features include standard Parlay interface; expanding Parlay with
carriers and customizing API. This allows a third party to manage the
service release based on workflows, and provides a universal Portal for
subscribers to query and subscribe to third-party services, for example, SP
and CP management, subscriber service orders, and bill settlement.
5. Integrated Information and Communication Technology
The convergence of communication and information technologies underpins
network transformation, which will ultimately bring huge benefits to
fixed-line operators. Convergence occurs in all aspects of carrier-class
services, ICT devices, software and IT services, outsourcing included. In
the network layer, the softswitch + SHLR + MSAN open network structure
provide a basis for ICT. The network can provide broadband access and
interconnectivity, IP Centrex, UC, web800 services for corporate subscribers
and, for personal subscribers, IPTV and digital home services.
IP Centrex: A wide area IP Centrex grouping can be established for a single
enterprise, inclusive of its HQ and branches. It enables both analog and
video subscribers to communicate with each other in the same Centrex group,
even if the subscribers are located in different cities. Additionally,
U-Path is provided to ease self-service management.
UC: UC takes advantage of both real-time communications systems and
easy-to-use IT platforms, and can provide click to dial/fax, instant
messaging, intelligent routing, unified messaging, directory services and
self-service for high-end business subscribers with OA systems.
Web800: This allows subscribers to call an enterprise's call center or
helpdesk by clicking the web800 icon on the web page. The service is
targeted at the manufacturing, service, financial and logistics industries.
Digital home: With the increased move towards broadband network
construction, fixed terminals, otherwise unchanged over decades, are
afforded new opportunities. By taking advantage of broadband, new home
terminals – in other words the digital home gateway – will integrate
telephone, PC, and TV to provide an all inclusive user service.
A Proper Startup for Network Transformation
___________________________________
Xu Huangcheng
NGN planning
department
III Further Network Development
 
Proposed by 3GPP and widely accepted by international institutions, IMS
research into the wireless and fixed-line fields is helping steer the advent
of network evolution. The features and benefits of IMS include an open
service environment, mobility, flexible service deployment and unified home
service settings. IMS facilitates a seamless convergence of fixed-line and
wireless networks, and provides ICT services. It is designed to allow all
services to share the same core network, subscriber database, background
billing system and service development platform. Subscriber data management
and roaming capacities are subsequently enhanced.
The IMS is the future of
fixed-line and wireless networks, and the IMS-based fixed-line/wireless
converged network is generally regarded as the best solution. Nevertheless,
the mobile-oriented IMS still requires conclusive research with respect to
access models, service provision and fixed-line network subscriber
migration. There is still a long way to go before IMS standards are
completed, and consequently before the first commercial IMS network is
deployed. Equally, sufficient maturity of the entire telecommunications
industry is a tangent yet inextricable aspect of the transformation process.

The softswitch and IMS are regarded as the two stages of NGN development.
The softswitch has present applications, solving high OPEX and inadequate
service capability issues in legacy PSTN networks. Conversely, IMS
application will occur in the future: the system is set to provide IP
multimedia services and shoulder the convergence capability of fixed-line
and wireless networks. The softswitch-based network shares the same network
topology as IMS, including Access, IP Bearer, Session&Call control. The
evolution from softswitch to IMS is therefore smoothly handled and realized.

 Huawei's Softswitch + SHLR + MSAN solution offers flawless evolution
capabilities to IMS with minimum network impact. Below is an illustration of
the evolution process:
The Softswitch can be upgraded to provide the IMS AGCF/MGCF function
without adding any hardware. This approach requires SHLR to provide the IMS
HSS function. The IMS is intended as an NGN subsystem that can act as an SIP
based multimedia system and provide new value added services for all network
subscribers. Existing POTS users must still access the NGN via MSAN and can
enjoy traditional PSTN/ISDN services provided by AGCF/MGCF. AGCF/MGCF will
share the same HSS user database with other IMS components.
IV Summary
As fixed-line operators are evolving from traditional network carriers to
integrated information service providers, a sustainable network is required
to support convergence, broadband and intelligence. Huawei "Softswitch +
SHLR + MSAN" is the best choice to initiate this transformation and guide
future network direction.
———————–
About Huawei
Huawei is one of the leading players in the global telecom market.
specializing in the research and development, production, sales and
marketing of telecoms equipment, Huawei provide innovative, customized
equipment, service and solution in different telecom fields, creates long
term value for customer and realizes the customers' potential growth.
Huawei has about 35,000 employees; its overseas services have covered more
than 90 Countries/regions, Huawei Technologies serves 22 of world's top 50
operators. in 2004, the contract sales of huawei have reached USD 5.58
billion.